OpenAPIHub Enterprise Edition
Enterprise API Hub
Build Enterprise API Hub now with our white label solution.
Request More Information
Building Scalable Platform Business in modern API Economy
API business is booming and will continue to grow in the future. There are a number of reasons for this, but the most important one is that APIs are a great way for businesses to generate revenue. By opening up your API to developers, you can allow them to create new and innovative applications and services around your product or service. This not only benefits the developer—who gets paid for their work—but also helps promote your products and services to the whole new audience.
Manage & Configure Your Enterprise API Hub Easily
API Hub Platform
An API Hub Platform supports easily provisioning of API Portals and API Marketplace features.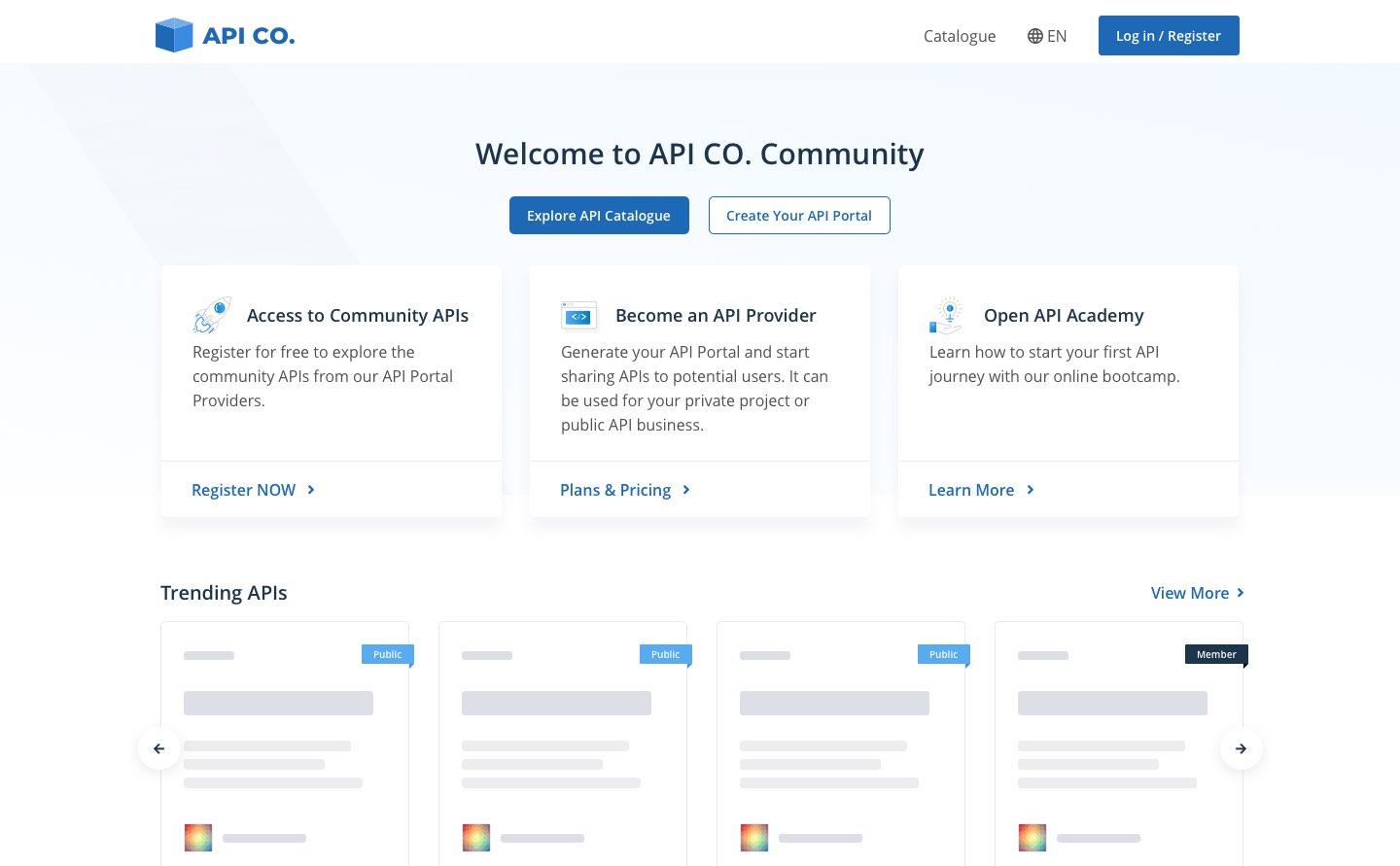 Developer Admin Portal
The admin portal for Developer to manage their API subscription, metrics and logs.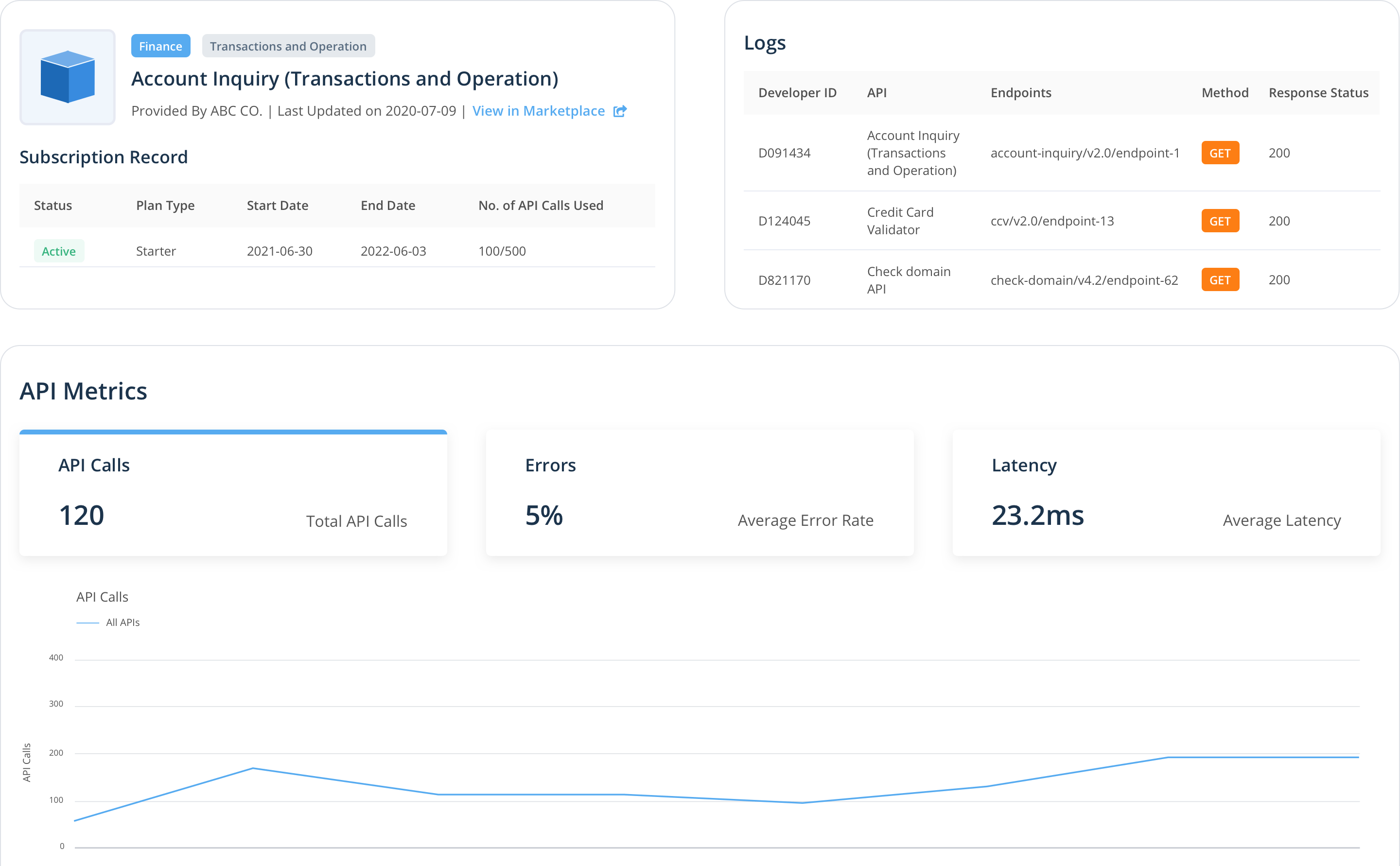 Provider Admin Portal
The Admin Portal for API Providers managing their API collections, subscriptions and monetization with ease.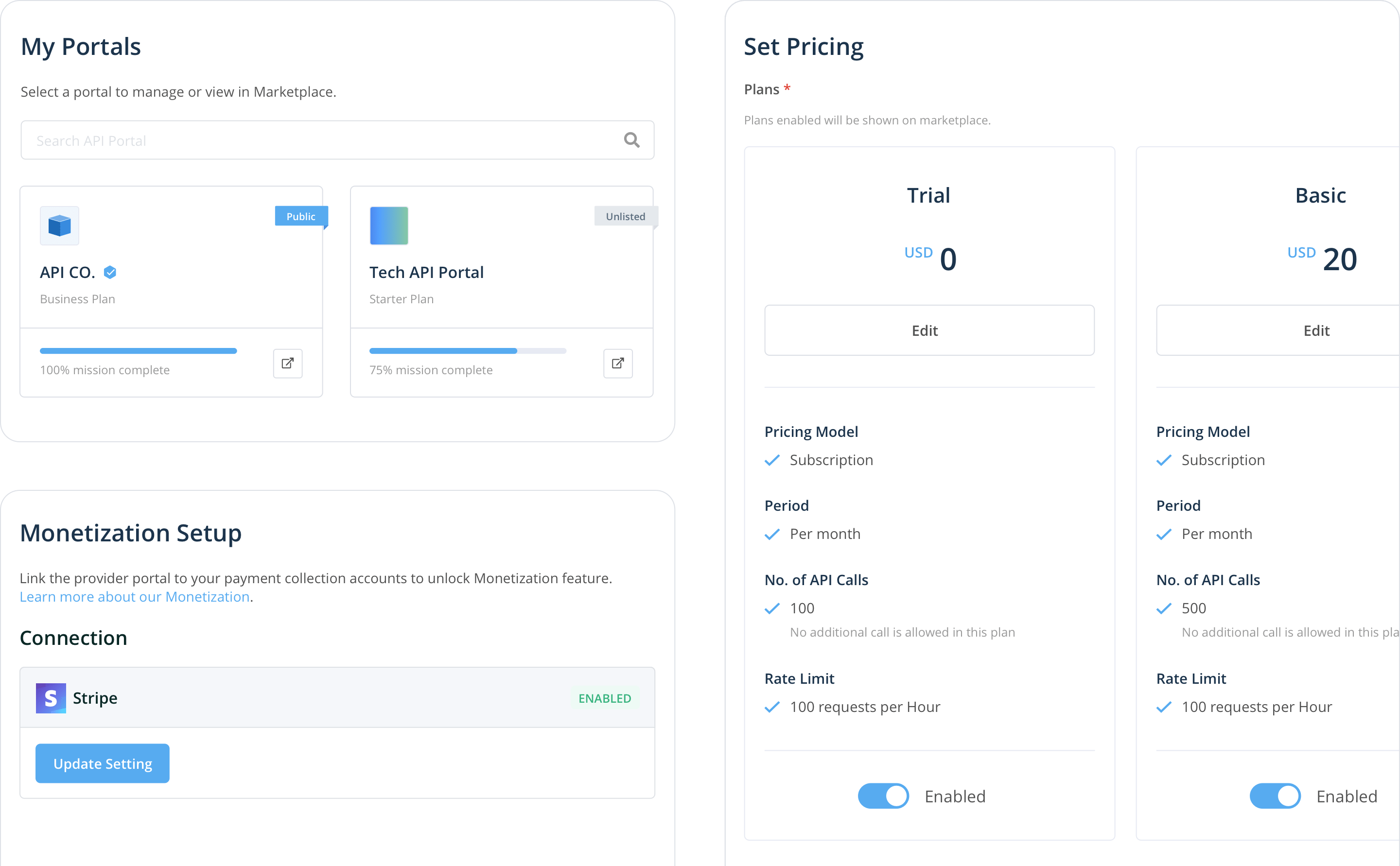 Operator Admin Portal
The portal for platform operator to configure the Enterprise API Hub settings, themes and policies.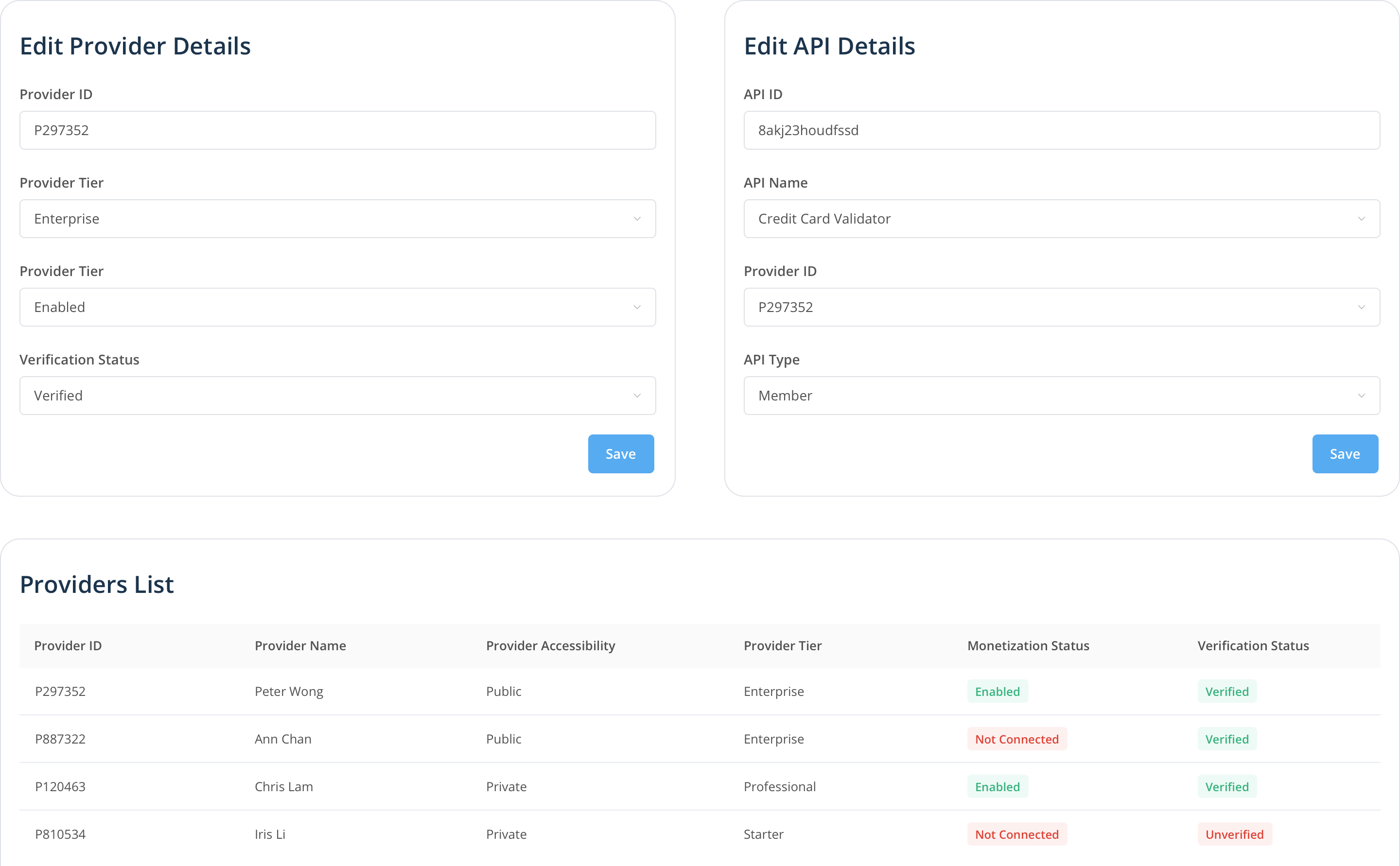 Want to Know More About Enterprise API Hub?
Reach out to learn more about OpenAPIHub Enterprise API Hub.
Request More Information
Enterprise Use Cases
Discover the use cases of OpenAPIHub Enterprise API Hub.
Internal API Hub
The OpenAPIHub Enterprise API hub is where development teams can discover, collaborate on, and use hundreds of APIs from both internal (your company) or external sources such as third parties. The customized interface makes it easy for you to find what kind of data or service meets your needs without having a person searches through thousands of documents before they are satisfied with one result.
Partner API Hub
The OpenAPIHub Enterprise API hub is an enterprise-level solution for sharing and collaborating APIs. The customizable design allows partners to match their brand requirements, while being governed by permissions at the partner level as well as team or developer levels too!
API Marketplace
OpenAPIHub Enterprise API Hub acts as an API Marketplace to provide a central location where businesses can find APIs from a variety of sources, making it easy to find the right API for their needs. They also offer a variety of features such as ratings and reviews, so businesses can be sure they are getting a high-quality API. API Marketplaces are revolutionizing the digital business world by making APIs faster, better, and more accessible than ever before.
Successful Stories
Explore how other companies make use of OpenAPIHub Enterprise API Hub.
HSBC API EcoBooster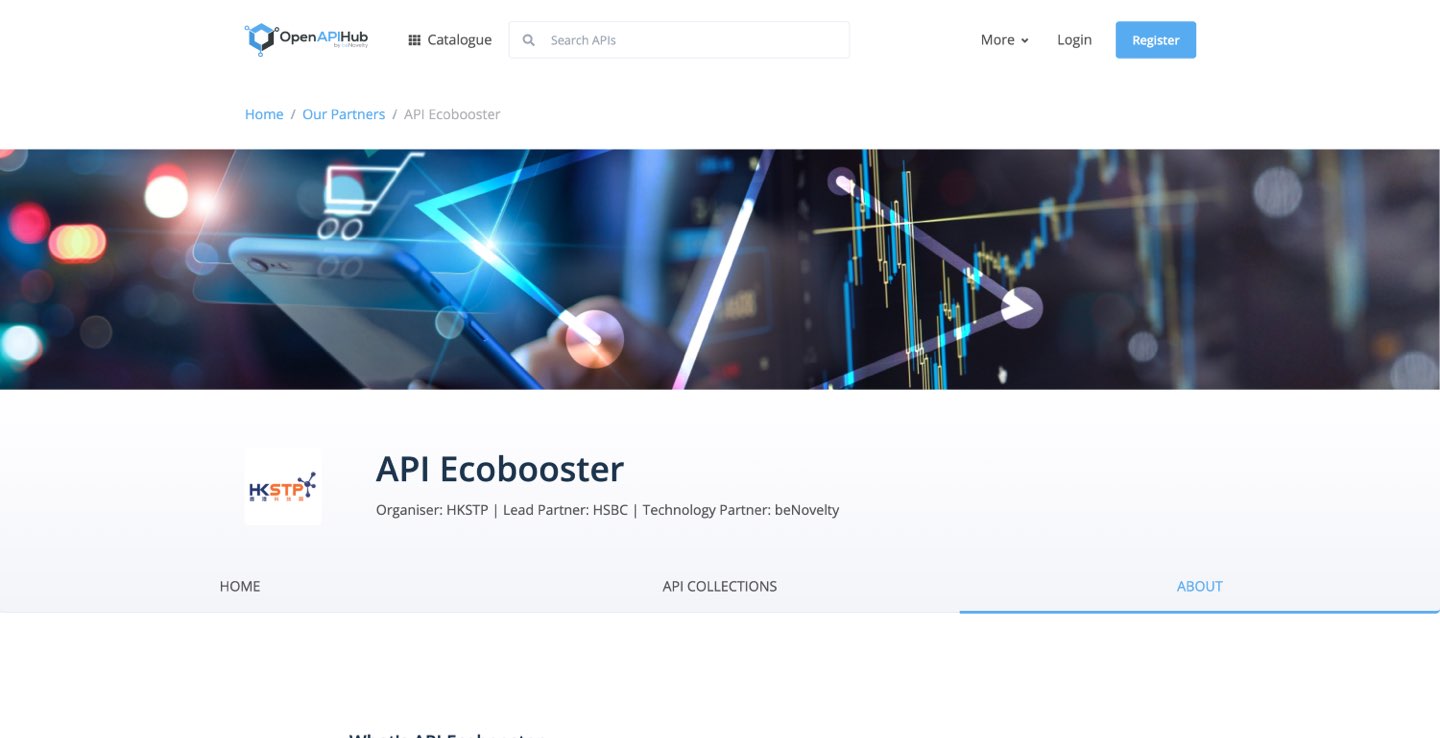 The API Programme is supported by beNovelty as technology partner to provide technical clinics, and arrange sandboxes with more than 100 banking APIs, as well as mock data on its API integration platform for innovators to try their APIs.
Learn More
Central repository of Open APIs launched by banks in Hong Kong
The Central Open API repository adopted the Enterprise solution from OpenAPIHub to maintain the up-to-date information from the banks and TSPs participating in the Open API Framework for Banking Sector in Hong Kong.
Learn More
A Platform You Can Trust
OpenAPIHub holds key compliance certifications to ensure your data is safe.
ISO 27001:2013 Information Security
OpenAPIHub is specialized in cloud API management and is certified with ISO 27001:2013 in the provision of API platform services, consisting of API Service Subscription Management, API Provider, Subscriber & Services Onboarding and Offboarding, etc.
Qualified Software by AWS
OpenAPIHub team (beNovelty) is AWS APN Technology Partner. The OpenAPIHub platform has passed the AWS FTR review and considered as "Qualified Software" by AWS.
Interested in Enterprise API Hub?
Reach out to learn more about OpenAPIHub Enterprise API Hub and schedule a one-on-one demo with our team.